Our Recipes
At Eenigenburg Berry Farm, we pride ourselves on our blueberries. Because they are so fresh and of such high quality, they can liven up any dish and add so much flavor! We love sharing our recipes with you so check back often because they will change out periodically!
Our Famous Blueberry Muffin Recipe – The Best Around!
It was about 30 years ago in 1984 when this muffin recipe first came to our farm.  It was a busy day on the farm and it was pretty normal to see families taking a break in our picnic area that we provided. Well,  I (Shiela) decided to take a break from the shed one day and wandered out to the picnic area and visit with some customers. This family was here picking all the way from Chicago and this nice lady offered me a blueberry muffin which I of course gladly accepted. Well, history of the blueberry muffin at our farm was born.  I ran to share this with my mom, Alice Eenigenburg, and told her how good it was and she just said, "Well did you get the recipe?" The kind customer of course shared her family muffin recipe with us and it has been our favorite for 30 years. We hope whoever uses it will enjoy it as much as us and all the credit goes to one of our great customers years ago – Mrs. A. Kueovitz.  Thank you to her and her family for sharing it with us. 
BLUEBERRY MUFFINS  from A. Kueovitz

Ingredients:
1 ¾ cup blueberries
1 Tbsp. baking powder
1 cup milk
2 cups sugar
2 Tbsp. melted butter
2 eggs
1 stick butter
3 cups flour
1 tsp. vanilla
Wash blueberries, remove stems and set aside. Heat oven to 350 degrees and grease 24 muffin cups or use paper liners. Put flour, sugar and baking powder in a large bowl; mix well. With fingers, squeeze butter into flour and keep squeezing until mixture is in crumbs. Put 1 cup crumb mixture into small bowl and set aside. To mixture in large bowl, add eggs, milk and vanilla. Beat until smooth. Gently stir in blueberries. Fill muffin cups with batter about 2/3 to ¾ full. Dribble melted butter over mixture in small bowl and toss with fork to make crumbs. Sprinkle crumbs on top of batter. Bake until light golden brown, about 20-25 minutes or until done. These may be frozen.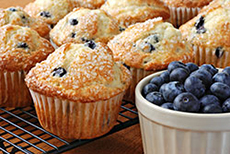 Please enjoy some of our other recipes below and feel free to send us a note letting us know what you think of them! If you have a favorite recipe that we could use, please send it to us at Eenigenburg's Berry Farm, 713-15th Ave. NW, DeMotte, IN 46310 or email it to bestblueberries@yahoo.com, We will include it in our next recipe folder.  We hope you enjoy your blueberries and we look forward to seeing you at the farm!
Blueberry Sauce
Everybody's Favorite, use on all your favorite desserts!


Click here for the full recipe!
Blueberry Pumpkin Bread
Everyone's favorite treat for the holiday seasons


Click here for the full recipe!
Peach Blueberry Cobbler
What a tasty combination! Perfect fall dish!


Click here for the full recipe!
Blueberry Cornbread Cobbler
What a delicious twist to an old fashioned cobbler!


Click here for the full recipe!
Three recipes from three sisters!
The sisters from the Eenigenburg farm family would like to share their favorite recipes with you!
BLUEBERRY COFFEE CAKE
By Shiela DeBoer,

3/4 c sugar
1 egg
2 c flour
1/2 tsp lemon juice
1 1/2 c blueberries
1/4 c margarine
1/2 c milk
2 tsp baking powder
1/2 tsp salt
Mix everything together and spread in greased 9″ square pan.
Topping:
1/2 c sugar
1/3 c flour
1/2 tsp cinnamon
1/4 c margarine
Mix and put on top of blueberry mixture.  Bake 375 degrees for 25-35 minutes. (Taste extra good if you drizzle a little icing over the top.) 
BLUEBERRY SLICES
By Donna Knip,
4 cups flour
1 ½ tsp. salt
1 ½ cups shortening
2/3 – ¾ cup water
2 Tbl. Lemon juice
2 egg yolks
Mix flour and salt; cut in shortening until approximately size of peas. Mix slightly beaten egg yolks with water and lemon juice to make ¾ cup. Pour slowly into flour mixture, mixing with a fork. Divide dough in half for a top and bottom crust.
10-12 cups blueberries (to fill jelly roll pan)
1 ½ cups sugar
4 Tbl. Tapioca
½ tsp. salt
2 Tbl. Lemon juice
Mix above together and let stand while making crust. Pour in pan – dot with butter, cover with top crust. Put slits in top crust. Make 1 hour to 1 hour, 15 minutes at 350 degrees. Put foil on bottom of oven, it will run over!
FRESH BLUEBERRY PIE
By Pat Tysen,

1 cup sugar
3 heaping tbsp. cornstarch
½ tsp. Ground cinnamon
1/8 tsp. salt
1 cup water
1 cup fresh or frozen blueberries
1 tbsp. Lemon juice
3 cups fresh blueberries
1 baked 8 or 9 inch pie shell
· Combine sugar, cinnamon, salt, and 1 cup of fresh or frozen berries with 2/3rds of the water. Put in microwave until boiling (single recipe about 3 minutes)
· Add cornstarch mixed in remainder of the water (1/3rd)
· Cook (microwave) until thickened and clear (about 1 minute)
· Add Lemon juice, stir well to mix and cool slightly
· Add 3 cups of fresh berries and gently transfer the filling to the prepared pie shell
· Top with cool whip, whipped cream or ice cream
NOTE: If you double the recipe the cooking time doubles (or more)! I use a pre-made crust (the ones rolled up in the refrigerator section) and do the cooking in the microwave! Easy, and everyone loves it!!